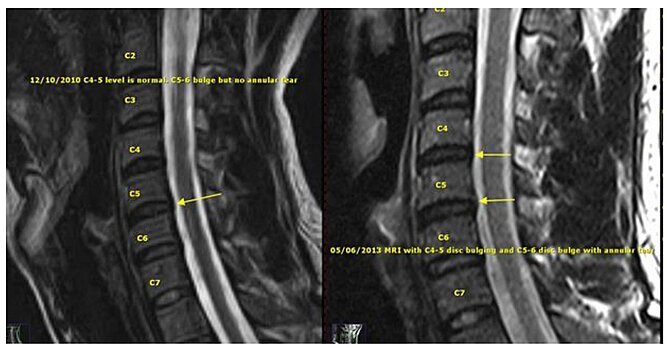 Todd Cielo, DC; Kim B. Khauv, DC, MPH; Jeffrey Bourguignon, DC; Chintan Desai, MD
Abstract
Objective: Current literature demonstrates that traumatic cervical spine injuries are difficult to diagnose potentially leading to catastrophic consequences. Standard radiography, computerized tomography scans (CT), and magnetic resonance imaging (MRI) have limitations. A highly accurate Computed Radiographic Mensuration Analysis (CRMA) system has been utilized to assess segmental motion. The objective of this case study is to describe the application of CRMA on cervical flexion/extension radiographs for the diagnosis of cervical vertebral subluxation and discoligamentous instability following a motor vehicle accident.
Clinical Features: A 27-year-old male presented to a chiropractic office with whiplash-associated disorder (WAD) after a motor vehicle incident four years prior. Two previous MRI studies revealed cervical spine disc bulges and annular fissure but failed to diagnose cervical vertebral subluxation and discoligamentous instability.
Intervention and outcomes: An informed consent was obtained from the patient for examination and radiographic examination. A radiographic examination consisting of a five-view cervical spine series, analyzed by CRMA, revealed cervical spine translation of 4.24 millimeters at the fourth cervical vertebra (C4) over the fifth cervical vertebra (C5) in flexion and extension films.
Conclusion: This case report suggests CRMA software may be a useful tool to accurately diagnose cervical vertebral subluxation and discoligamentous instability in MVA patients. We encourage future studies utilizing the CRMA software to improve diagnosis of cervical spine injuries.
Key words: cervical vertebral subluxation, discoligamentous instability, computed radiographic mensuration analysis, flexion/extension radiograph, motor vehicle accident
Citation: Annals of Vertebral Subluxation Research ~ January 28, 2019 ~ Pages 22-28
Dr. Kim Khauv, your Global City chiropractor, has helped many people live healthier and happier lives.
With over 20 years of experience, Dr. Kim B. Khauv, DC (Doc Kim) is the only American chiropractor in the Philippines that has worked for the United States Navy as a chiropractor (taking care of active duty military service members and wounded warriors) and holds a Master's Degree in Public Health with emphasis on health promotion and prevention from The Fielding School of Public Health at the University of California, Los Angeles.  
He is also an award-winning chiropractor currently licensed in the State of California, as well as National Board Certified Doctor of Chiropractic in the United States of America.  He is a "Registered Chiropractor" with the Philippines Institute of Traditional and Alternative Health Care (PITAHC).  He has earned a Bachelor's Degree from California State University in Fullerton (CSUF), a Master's Degree in Public Health from the Fielding School of Public Health at University of California in Los Angeles (UCLA), and Doctor of Chiropractic degree from Life Chiropractic College West (LCCW).  
Previously, Doc Kim was 1 out of 24 United States Navy chiropractors in the world, proudly provided chiropractic care to active duty military members at Naval Medical Center San Diego and had a private practice in San Diego, California.  Doc Kim currently holds an Adjunct Faculty position as Assistant Professor at Life Chiropractic College West teaching Public Health course to senior chiropractic students.  He is an approved instructor by the Board of Chiropractic Examiners of California to teach both online and live Continuing Education courses to chiropractors in Metro Manila, Philippines in the subjects of Chiropractic Adjustive Technique, Law & Ethics, and chiropractic Public Health.
Doc Kim was an elected Section Councilor of the Chiropractic Health Care section (CHC) of the American Public Health Association (APHA) and served as Membership Chair. His chiropractic research has been accepted and presented nationally and internationally at APHA, Association of Chiropractic College's annual Research Agenda Conference (ACC-RAC), International Society of Quality of Life Research, and World Chiropractic Federation (WFC). He has also published research on chiropractic care and public health education. He has been awarded the Distinguish Service Award (2015) and Rising Star Award (2013) from the APHA's CHC section.
While attending LCCW, he founded a non-profit called Well-Balanced World, 501(c)(3), with the sole purpose of providing affordable chiropractic care to underserved populations and charitable chiropractic care on international mission trips to Cambodia and the Philippines.
Dr. Kim Khauv, at Well-Balanced Chiropractic Wellness Center, now provides safe, effective, and evidence-based chiropractic care to patients from Makati, Rockwell, Manila, Paranaque, Alabang, Fort Bonifacio, Global City, Pasig, Ortigas, Mandaluyong, Greenhills, San Juan, and Quezon City, Metro Manila, Philippines. 
#NationalBoardofChiropracticExaminers #casestudy #research #SanDiegoChiropractor #Makati #MetroManila #Taguig #BonifacioGlobalCity #Philippines