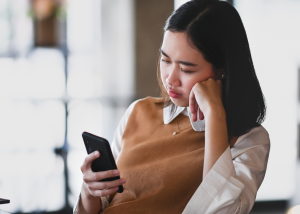 How to Avoid Tech Neck
As people use their smartphones and devices more and more, the prolonged screen use without proper rest or stretching can result in the health condition known as tech neck.
Your neck acts as a cushion for your head. When your head is in the neutral position right over your shoulders, the weight your head exerts is around 4.5-5.5 kg on average. But as you bend your neck to lower your head more in order to look at your smartphone, the weight of your head increases to around 12 kg and sometimes even more. It's like having a small child sitting on top of your neck.
If you're using technology excessively, you may have tech neck if you experience:
▪️ pain in the neck
▪️ stiffness
▪️ loss of range of motion
▪️ pain between the shoulder blades
▪️ headaches
Chronic issues of tech neck could lead to accelerated degeneration of the cervical spine, and other health issues with even more pain down the line.
Give your neck a break with the following tips:
1. Get up often, if you're working at a desk or on computer all day. Every 10-15 minutes, walk around your desk, or get a drink of water, and get the blood flowing. This will give your head and neck a break from looking down at the screen.
2. In order to avoid looking down at it the whole day, hold your phone up at eye-level.
3. Increase the strength of your upper back muscles and neck by using rower machines at the gym, or resistance bands at home.
4. Make sure you have enough aerobic exercise. A 20-30 minute walk gives a break from the smartphones and technology. It moves the joints, gets the blood flowing, and helps relax the muscles. You can also do light jogging, swimming, or use the elliptical machine.
Keep these four tips in mind to avoid or alleviate tech neck!
DISCLAIMER: This blog and any related comments are not medical advice. Check with your own healthcare professional before attempting anything in this blog. This information is only intended for educational purposes and should not be used to self-diagnose or self-treat any medical condition. Results are not guaranteed and vary from person to person.
Dr. Kim "Doc Kim" Khauv, your Metro Manila chiropractor, has helped many people live healthier and happier lives. ​
With over 20 years experience, Dr. Kim Khauv is an award winning American Chiropractor, trained at University of California Los Angeles (UCLA) in public health and prevention, National Board certified, corrective care chiropractor who has published and presented research nationally and internationally in chiropractic care, wellness, and prevention. ​
While he was in San Diego, CA, Dr. Kim Khauv was one of only 24 chiropractors in the world working for the United States Navy, providing chiropractic care to active duty military members at Navy Medical Center San Diego for over 5 years. ​
Dr. Kim Khauv now provides safe, effective, and evidence-based chiropractic care to patients from Makati, Rockwell, Manila, Paranaque, Alabang, Fort Bonifacio, Global City, Pasig, Ortigas, Mandaluyong, Greenhills, San Juan, and Quezon City, Metro Manila, Philippines. Conditions that have responded well to chiropractic care are headaches, migraines, neck pain, back pain, pregnancy related back pain, sciatica, and auto injuries. Visit www.well-balancedchiro.com for more information.
#chiropractic #BGCChiropractor #chiropracticworks #MetroManilaChiropractor #Taguig #CDOChiropractor #WellBalancedPH #WellBalancedChiropracticWellness Center #WFH #WorkFromHome #newnormal #stayhealthy