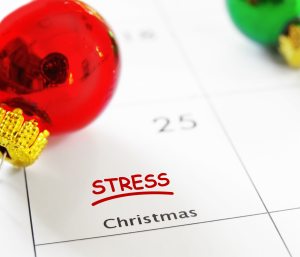 The holidays are fast approaching, and everyone is looking forward to all the fun that's coming up.
But the holidays are not just a time of excitement and anticipation. They're also a time of stress for
many of us. Whether you're thinking about what to serve during the holidays, rushing to make sure
you've got the perfect gift for everyone on your Christmas list, or simply trying to catch a breath in the
midst of all the holiday parties, sometimes the Yuletide season wreaks havoc on our mental health.
Here's how you can cope and deal with the stress of the holidays:
1. Make a list and check it twice. Just like Santa, prepare a list of everything that needs to be done.
Writing it all down will make it easier for you to see if you've left something out. There's nothing like
marking items as DONE to keep your enthusiasm going strong. And this will inspire you to get
everything else on your list done too.
2. Make sure your schedule has wiggle room. Start your planning early. Things don't always go according
to plan, and if the schedule is too tight, it will be harder to adjust. This could lead to even more stress,
and who wants that?
3. Ask for help. You're not a one-person army, and you don't have to do everything by yourself. Reach
out to family and friends to get things done. Delegate what you can, so you'll have more time and
energy to focus on what really needs your personal attention.
4. Don't forget me-time. It's easy to ignore yourself when you're rushing about trying to get everything
done. Make an effort to take time to rest and recharge, whether it's just a few deep breaths when
you're feeling frazzled, or an entire day off when you can pamper yourself. Make sure that you're
getting the right nutrition, keep hydrated, and sleep enough.
Try these tips, and be sure to have happy holidays!
DISCLAIMER: This blog and any related comments are not medical advice. Check with your own healthcare professional before attempting anything in this blog. This information is only intended for educational purposes and should not be used to self-diagnose or self-treat any medical condition. Results are not guaranteed and vary from person to person.
Dr. Kim "Doc Kim" Khauv, your Metro Manila chiropractor, has helped many people live healthier and happier lives. ​
With over 20 years experience, Dr. Kim Khauv is an award winning American Chiropractor, trained at University of California Los Angeles (UCLA) in public health and prevention, National Board certified, corrective care chiropractor who has published and presented research nationally and internationally in chiropractic care, wellness, and prevention. ​
While he was in San Diego, CA, Dr. Kim Khauv was one of only 24 chiropractors in the world working for the United States Navy, providing chiropractic care to active duty military members at Navy Medical Center San Diego for over 5 years. ​
Dr. Kim Khauv now provides safe, effective, and evidence-based chiropractic care to patients from Makati, Rockwell, Manila, Paranaque, Alabang, Fort Bonifacio, Global City, Pasig, Ortigas, Mandaluyong, Greenhills, San Juan, and Quezon City, Metro Manila, Philippines. Conditions that have responded well to chiropractic care are headaches, migraines, neck pain, back pain, pregnancy related back pain, sciatica, and auto injuries. Visit www.well-balancedchiro.com for more information.
#chiropractic #BGCChiropractor #chiropracticworks #MetroManilaChiropractor #Taguig #CDOChiropractor #WellBalancedPH #WellBalancedChiropracticWellness Center #WFH #WorkFromHome #newnormal #stayhealthy