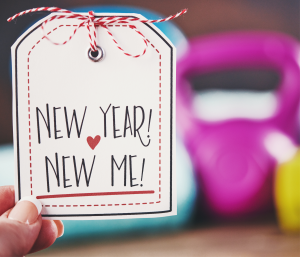 The start of the new year is when many people resolve to make changes. For the first week or so, everyone is fired up to become the best version of themselves. But as January turns to February, their enthusiasm begins to wane, and so does the resolve to change. This 2023, keep these tips in mind to help you achieve your new year's resolutions:
Start small. Don't try to change everything all at the same time. Many drastic changes to your habits are not likely to be sustainable so pick one or two small changes that you can focus on, and add more once you've nailed the previous ones.
Be realistic. Make sure your goal is achievable in the time frame you decide on. Setting unrealistic goals is a sure way to set yourself up for failure.
Plan ahead. Try to set a routine because it's easier to stick to a schedule. Make a plan for what you can do in case you have a hard time following through, or when you're in a situation where it's challenging to keep to your goals.
Track your progress. Whether you note your progress on a wall calendar or keep it to yourself in a private journal, taking note of how well you do is key to being consistent.
Have an accountability partner. Having someone who you can talk with about the changes that you're making will help you stay on track. Sometimes an encouraging word, or even a call-out when you're slipping, is all you need to keep you going.
Keep going. You might be tempted to throw in the towel if you miss a day but don't! There's no need to feel guilty. Simply start again the next day and continue on.
Research has shown that it takes slightly more than two months to form a habit, but it could take as long as four months for it to feel automatic. So be consistent and you'll be rewarded!
Reference:
Lally, P., van Jaarsveld, C.H.M., Potts, H.W.W. and Wardle, J. (2010), How are habits formed: Modelling habit formation in the real world. Eur. J. Soc. Psychol., 40: 998-1009. https://doi.org/10.1002/ejsp.674
DISCLAIMER: This blog and any related comments are not medical advice. Check with your own healthcare professional before attempting anything in this blog. This information is only intended for educational purposes and should not be used to self-diagnose or self-treat any medical condition. Results are not guaranteed and vary from person to person.
Dr. Kim "Doc Kim" Khauv, your Metro Manila chiropractor, has helped many people live healthier and happier lives. ​
With over 20 years experience, Dr. Kim Khauv is an award winning American Chiropractor, trained at University of California Los Angeles (UCLA) in public health and prevention, National Board certified, corrective care chiropractor who has published and presented research nationally and internationally in chiropractic care, wellness, and prevention. ​
While he was in San Diego, CA, Dr. Kim Khauv was one of only 24 chiropractors in the world working for the United States Navy, providing chiropractic care to active duty military members at Navy Medical Center San Diego for over 5 years. ​
Dr. Kim Khauv now provides safe, effective, and evidence-based chiropractic care to patients from Makati, Rockwell, Manila, Paranaque, Alabang, Fort Bonifacio, Global City, Pasig, Ortigas, Mandaluyong, Greenhills, San Juan, and Quezon City, Metro Manila, Philippines. Conditions that have responded well to chiropractic care are headaches, migraines, neck pain, back pain, pregnancy related back pain, sciatica, and auto injuries. Visit www.well-balancedchiro.com for more information.
#chiropractic #BGCChiropractor #chiropracticworks #MetroManilaChiropractor #Taguig #CDOChiropractor #WellBalancedPH #WellBalancedChiropracticWellness Center #WFH #WorkFromHome #newnormal #stayhealthy