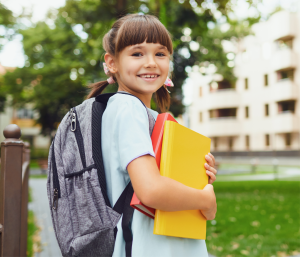 It's been over two years since the Covid-19 pandemic started, and we are finally going back to the office, or back to school. This means bringing everything we need with us, and backpacks can help us with that, if we choose the right one and wear it correctly.
Consider these to make sure you're buying a quality backpack:
The size of the backpack should be proportional to the size of the wearer.
Padding is important. Your backpack should be padded enough to protect the items inside in case it hits something, and it's best if the straps are padded too. They should have padding for the shoulders, and be wider at the top then narrow down.
In addition to shoulder straps, the chest strap, and hip strap should be adjustable, with a strong grip that you don't need to keep changing.
Choose a backpack that is made of sturdy and long-wearing fabrics like nylon or polyester, with no frayed or raw fabric edges. Stitches should be clean and precise.
Check that all zippers are working properly. Zippers that have fabric flaps over them are better than those that are exposed.
Look for backpacks with compartments and pockets that can evenly distribute the weight.
A safety feature like reflective panels or tape are also a good addition to the backpack.
Once you've settled on a backpack you like, try it on before buying. You can fill it with some of the items you plan to carry in it, and see if the weight is properly distributed. It's important that you feel comfortable in it.
Now that you've got your backpack, make sure to keep your back healthy by wearing it properly:
Don't over stuff your backpack. It shouldn't weigh more than 15% of your body weight.
Use both shoulder straps when wearing it. Using only one strap adds extra strain to the shoulder carrying it.
Make sure that any chest strap and hip strap is at the correct level on the wearer.
The backpack should fit snugly to your back, and shouldn't sway from side to side when you're walking.
Your backpack should rest evenly in the middle of your back, where your center of gravity is. A backpack that's carried lower than that will strain your back muscles.
DISCLAIMER: This blog and any related comments are not medical advice. Check with your own healthcare professional before attempting anything in this blog. This information is only intended for educational purposes and should not be used to self-diagnose or self-treat any medical condition. Results are not guaranteed and vary from person to person.
Dr. Kim "Doc Kim" Khauv, your Metro Manila chiropractor, has helped many people live healthier and happier lives. ​
With over 20 years experience, Dr. Kim Khauv is an award winning American Chiropractor, trained at University of California Los Angeles (UCLA) in public health and prevention, National Board certified, corrective care chiropractor who has published and presented research nationally and internationally in chiropractic care, wellness, and prevention. ​
While he was in San Diego, CA, Dr. Kim Khauv was one of only 24 chiropractors in the world working for the United States Navy, providing chiropractic care to active duty military members at Navy Medical Center San Diego for over 5 years. ​
Dr. Kim Khauv now provides safe, effective, and evidence-based chiropractic care to patients from Makati, Rockwell, Manila, Paranaque, Alabang, Fort Bonifacio, Global City, Pasig, Ortigas, Mandaluyong, Greenhills, San Juan, and Quezon City, Metro Manila, Philippines. Conditions that have responded well to chiropractic care are headaches, migraines, neck pain, back pain, pregnancy related back pain, sciatica, and auto injuries. Visit www.well-balancedchiro.com for more information.
#chiropractic #BGCChiropractor #chiropracticworks #MetroManilaChiropractor #Taguig #CDOChiropractor #WellBalancedPH #WellBalancedChiropracticWellness Center #WFH #WorkFromHome #newnormal #stayhealthy